$.01--Khalil Mack made his debut in a Chicago Bears uniform with great fanfare. The ex-Raider quickly delivered on the promise of his NFL-record contract.
Mack didn't start, but he made his presence felt quickly. On his first two snaps he bulled right tackle Bryan Bulaga -- a very good right tackle -- back into Aaron Rodgers and forced a throwaway. On the next play Mack got held so egregiously three different officials threw their flags at Bulaga.
It only got better, or worse if you're a Packers or Raiders fan, for Mack. His relentless pressure destroyed the Green Bay offense, which managed just 4 first downs in the first half. Rodgers left the game with a scary knee injury caused in part by another pressure from Mack. He did return but not until after Mack did this to backup DeShone Kizer:
"My ball."

Khalil Mack to DeShone Kizer (probably).

📺:: NBCpic.twitter.com/b2RpDsovSw

— SNF on NBC (@SNFonNBC) September 10, 2018
Mack then proceeded to score on a pick-six where Kizer threw the screen pass directly to him. The Bears roared to a 17-0 halftime lead…
And then everything new was old again. Rodgers, to the squealing delight of NBC commentator Cris Collinsworth, hobbled back onto the field and led the Packers on an epic comeback.
Rodgers started getting the ball out quicker, and the Bears coverage loosened. They took Mack away with the tempo and the quick throws, and Chicago enabled it with some ponderous safety deployment patterns. First came a field goal. Then a touchdown. And another TD. And another epic TD pitch-and-catch to Randall Cobb to take the lead.
Chicago's offense rolled into a ball like a scared armadillo. The Packers obliged as the pickup truck running them over. Rodgers' special performance punctuated a fantastic Sunday Night Football debut with Green Bay's 24-23 win. It's further proof that no matter how impactful an All-Pro defensive player can be, it's still not as valuable as having an all-time great at quarterback.
$.02--After months of waiting, we finally got football on Thursday night. Of course we had to wait a little longer…
The season kickoff between the Eagles and Falcons was delayed an extra 45 minutes due to lightning in Philadelphia. That would be the only real electricity in the game between the two NFC heavyweights, unfortunately. I barely stayed awake until halftime, which began at 10:34 PM for those of us in the Eastern time zone. The 6-3 score and plethora of penalties didn't help.
It turned out I didn't miss much by going to bed, other than Atlanta's baffling red zone issues. The Eagles won, 18-12, despite Nick Foles passing for just 117 yards. That's less than Julio Jones had catching passes from Matt Ryan for the Falcons, but none of those came in the end zone.
The Falcons inexplicable red zone ineptitude makes zero sense. Ryan threw three passes to Jones inside the Eagles 20. Jones, arguably the NFL's top receiver and certainly an All-Pro, didn't catch any. Philly CB Rasul Douglas caught one, however. Ryan was 1-of-9 inside the Eagles red zone. He's completed just one of his last 20 passes to Jones, a physical freak at 6-3 with a high jump good enough to qualify for the Olympics, in those situations dating back to last year.
As crazy as that seems, the Eagles still couldn't pull away. Philly's pass rush was in top form. Jay Ajayi had no such red zone issues, scoring twice. It's a nice way to win with Foles in for the still-injured Carson Wentz. Beating a playoff contender and improving to 1-0 is a solid start for the defending champs.
$.03--The Cleveland Browns snapped their losing streak which dates back to 2016...sort of. Cleveland rallied from a 14-point deficit in the 4th quarter to tie the visiting Steelers at 21. Both coaches decided to play to lose rather than win in overtime, and the game ended in the tie.
With the Browns being on Hard Knocks this year and featuring so many compelling storylines, pulling off the rare tie is one of the few things that could actually surprise me. Mission accomplished.
Tyrod Taylor was underwhelming in his debut. Considering the team started undrafted rookie Desmond Harrison at left tackle, who wasn't the starter at any point in preseason and was tasked with facing the Steelers defense in a heavy downpour, underwhelming is acceptable. Josh Gordon made a spectacular TD catch, but it was his only reception of the day.
The defenses were the story, except for the officials who threw 23 flags with little regard for if there were even half that many infractions. Cleveland's defense forced 6 turnovers. Two of those came on consecutive drives courtesy of Myles Garrett. Last year's No. 1 overall pick conjured legit memories of Lawrence Taylor from folks on social media. This year's No. 4 overall pick, CB Denzel Ward, picked off Roethlisberger twice and made a brilliant open-field tackle on Antonio Brown to snuff out a potential game-winning drive late.
Pittsburgh's defense also played well. T.J. Watt was all over the place, recording four of the Steelers seven sacks. Cornerback Mike Hilton also looked great, part of a secondary which nicely keyed on what they expected Browns offensive coordinator Todd Haley to do. Haley, of course, was the Steelers offensive coordinator the past few seasons. Pittsburgh's defense won the familiarity battle.
So is the tie really the end of a losing streak? For Browns fans it probably feels more like a win than a loss, but nobody is drinking any victory beers just yet. The good thing is, if the defense plays at anything close to this level all season, they'll be hoisting victory beers several times.
$.04--Any Given Sunday, Week 1 edition
Tampa Bay 48, New Orleans 40
Many a fantasy survivor pool got killed by the Buccaneers. Most Tampa Bay fans seemed to doubt their team's ability to go on the road to New Orleans and pull off a win with no Jameis Winston, who is suspended for three games.
The Buccaneers tied a franchise record in points when they posted No. 48. The only reason is wasn't more was the clock running out and a missed field goal. There were over 1000 combined yards as each team posted 26 first downs. More than half the third down conversions were successful in the game.
They didn't miss Winston in this one. Ryan Fitzpatrick threw for 417 yards and 4 TDs on just 21 completions. Ryan Fitzpatrick! Tackling, coverage, play recognition were all optional for the New Orleans defense, which forced just one punt. Just for good measure, the Tampa Bay defense scored a TD of its own...and they needed it, too. Drew Brees topped Fitzpatrick with 439 passing yards while on my fantasy team's bench (I started Cam Newton). At least my fantasy team benefitted from Michael Thomas catching 16 passes (on 17 targets) for 180 yards and a TD.
Week 1 often produces some incredible results. This tops the list and could wind up being one of those "what the hell was that?" games we look back upon at the end of the season. Losing a divisional home game to a backup quarterback is a terrible way for the Saints to kick off a season where they hold Super Bowl aspirations.
$.05--The Buffalo Bills were already projected by most to finish with one of the worst records. Now that we've seen the new-look edition of the 2017 playoff team, there should be very little doubt that the Bills will be projected to get the No. 1 overall pick in the 2019 NFL Draft.
Buffalo was hapless and overmatched in every single aspect of football in getting annihilated 47-3 by the Baltimore Ravens. It really wasn't that close.
This is Buffalo's drive chart for the Bills first 11 possessions: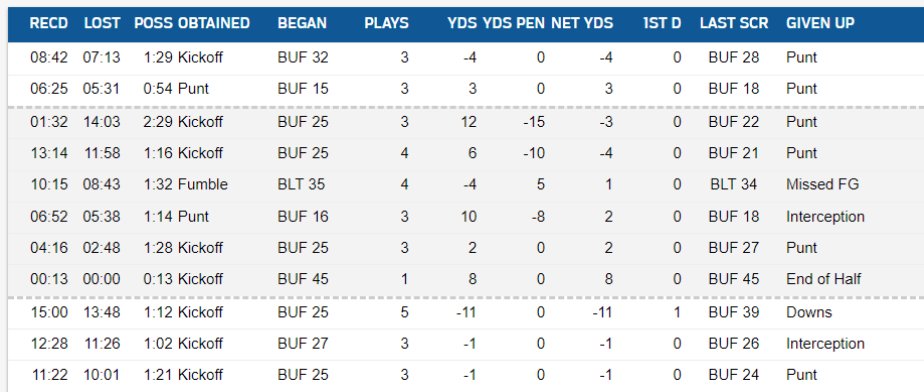 I'll do the math for you: 35 plays, -8 yards including penalties. Negative 8 yards on 35 plays.
That's relegation to the SEC East territory. Benching completely pointless starter Nathan Peterman helped a little bit. First-round rookie Josh Allen at least protected the football while getting walloped behind what might be the worst offensive line imaginable (note I haven't watched the Texans yet).
Bills fans deserve better. The team just made the playoffs for the first time this century. Now they appear on the fast track to threatening 0-16. That's a tough pill to swallow.
$.06--Andrew Luck returned to the field. The Colts QB was back in the saddle after missing all of last season with a shoulder injury and complications in his recovery from surgery. His return wasn't exactly triumphant, however. The Cincinnati Bengals prevailed 34-23 in Lucas Oil Stadium.
Luck looked fine physically. In fact, the 2012 No. 1 overall pick completed a career-high 39 passes (on 53 attempts). His first TD, a strike to TE Eric Ebron streaking past a linebacker, was as good a throw as I saw all day.
Perhaps the most important takeaway from Luck's performance is that he came out unscathed. Luck even took a vicious hit from Bengals safety Shawn Williams which got Williams ejected, and rightly so. I could hear Indianapolis collectively holding its breath for a second there, but Luck was no worse for the wear.
His durability is going to be a major factor. The Colts OL struggled without LT Anthony Castonzo, who missed this game with injury. There appears to be no appreciable depth. That's also true at running back, where projected starter Marlon Mack was out injured, too. I do like his passing game weapons, notably Ebron and Jack Doyle (bad fumble aside) at tight end, but this team is 100 percent dependent on Luck playing great to win. Given his recent health history, it might be a long season in Indianapolis even if Luck did pass his first test.
$.07--The NCAA is being sued by families of former college football players for failing to protect the players from undue risk.
The concussion study from Boston University concluded that 91 percent of college football players who donated their brains for research following their deaths showed signs of CTE. This lawsuit asserts the NCAA knew about the risk of concussions and knowingly failed to warn players or try to take action to stem the risks.
One of the plaintiffs is the family of former Grand Valley State QB Cullen Finnerty, and that makes this one close to home for me. I live 15 minutes from GVSU, a D-II power just outside of Grand Rapids. Finnerty played during the Lakers' magical run from 2003-06. He left school and joined the Baltimore Ravens as the winningest QB in NCAA history. But he suffered many big hits and concussions throughout his career.
Finnerty died after becoming disoriented on a fishing trip. He was just 30. Finnerty's brain showed moderate levels of CTE when studied at the Boston U. brain bank. He had suffered from some episodes of erratic behavior before his untimely death.
There is no initial word on any trial date or official response from the NCAA yet. The goal from the plaintiffs is to get into a courtroom in front of a jury. This is one to watch, folks...
$.08-- NFL quickies
--Is the rain delay in Miami over yet? The game kicked off at 1pm ET. It's currently 7:17 pm and it's still not over. Longest official game in NFL history. Wake me when it's over...
--Unbelievable stat from the Browns/Steelers game: Ben Roethlisberger has more career wins at FirstEnergy Stadium in Cleveland than any Browns QB. He's stuck at 11 after Sunday's tie. Derek Anderson had 10 in his Cleveland tenure. Maybe "unbelievable" is the wrong choice of words there…
--Happy for Clayton Fejedelem, the Bengals safety who iced Cincy's win in Indy with a long fumble return TD. The 2016 7th-rounder was a personal favorite coming out of Illinois and has become an indispensable member of the Bengals special teams. He was only playing because Shawn Williams got ejected and "Fej" made the most of his opportunity.
--As I tweeted following the game, Washington winning in Arizona did not surprise me, though I did officially pick the Cards. What raises my eyebrow is how convincingly they did it. Washington posted 30 first downs and held Arizona to just 14 in the 24-6 blistering. I didn't see Adrian Peterson being that effective (96 rushing yards, 70 receiving yards with a lost fumble)
$.09-- College/Draft quickies
--I love that ESPN had a camera completely devoted to Houston DT Ed Oliver in their romp over Arizona. His performance was worthy, too. It's worthy of the No. 1 overall pick in the 2019 NFL Draft and it doesn't much matter which team holds the pick.
--Saturday's early slate was dominated by blowouts, so my attention turned to Eastern Michigan vs. Purdue. I'm a proud MAC shill and I'll shill for the Hurons (err...Eagles) stunning the B1G Boilermakers in the deluge at Ross-Ade when freshman kicker Chad Ryland made the walk-off game-winning FG. EMU coach Chris Creighton continues to produce real magic in Ypsilanti. It wasn't long ago when most D-II programs in Michigan fielded better teams and more talented rosters than EMU. Second year in a row Creighton's Eagles have knocked off a B1G opponent. Not bad at all for a university with major budgetary issues. He'll be on the other side of these matchups soon.
--Colorado QB Steven Montez was fantastic in the Buffaloes surprising win in LIncoln over Nebraska, ruining Scott Frost's debut as coach at his alma mater. Montez completed 33 of 50 passes, spreading the ball accurately and crisply all over the field. Sophomore WR Laviska Shenault proved a legit playmaker, too. Montez bullied his way onto my QB watch list the rest of the season. He's come a long way from when I saw him relieve an injured Sefo Liufau in person at Michigan in his freshman season.
--The only thing of value from Michigan's romp over Western Michigan was witnessing the gloriousness of Wolverine LB Devin Bush's hair. It's a dreadlocked mullet:
is devin bush rocking a dreadlocked mullet? pic.twitter.com/9nhUFjKT00

— Jordan Heck (@JordanHeckFF) September 8, 2018
--Duke QB Daniel Jones is likely out for the season after injuring his left shoulder on a hard sack in the Blue Devils' 21-7 win over Northwestern. That's a big blow for one of my favorite QBs in what appears to be an underwhelming draft class. I saw Jones in person in the Quick Lane Bowl and he's got a lot of well-honed NFL ability. Here's hoping he's ready come workout season, if not sooner.
$.10-- RIP Burt Reynolds
For new readers, the tenth cent is my chance to go off-topic. It's often music or other sports, but occasionally pop culture. It's with deep nostalgic hurt that the first week's topic this season is a memoriam for Burt Reynolds.
For men of a certain age and place, and I find myself at the younger end of that spectrum in my mid-40s, Burt Reynolds epitomized what it meant to be cool. He certainly was influential to me.
I saw Smokey and the Bandit in the theater in 1977. I was just five but it changed my life. Really.
Before seeing that timeless classic, I'd never really been exposed to a hero who seemed to enjoy what he was doing. His nonchalance, his in-on-the-joke attitude, his mustachioed smile that lit up the screen, those weren't what was popular in the late 70s. When I saw Cannonball Run in the theater a few years later and it was the same basic character, I was more prepared to embrace the ethos. Later viewings of Gator and Semi-Tough only reinforced it. The movies were forgettable, sometimes even regrettable (Rough Cut, Stroker Ace) but how Reynolds portrayed characters and how they handled conflict with open-eyed, self-aware humor that belied his focused intensity was an oddly important role model in creating who I wanted to be.
I've never really lost that attitude over the last 35-plus years. Burt's characters in those movies played for the fun. The win was better than the loss, but getting to either outcome was the real story. Enjoying the process along the way, and making sure everyone knew you were enjoying it and inviting them to do the same, that's how I've always tried to live my life.
I won't lie, I didn't care for a lot of his later-life work. Other than a brilliant cameo arc on Archer, most of the films and the yawning Evening Shade were just not for me. That's okay. Not everything I create will resonate with everyone, either. If you dislike Burt Reynolds movies, you probably found this indulgently banal. It doesn't detract from the near-idolization I had for Reynolds as a youngster growing up in rural Northeast Ohio. It won't change the strangely profound impact his work had on my life, something I didn't really grasp until I celebrated the 40th anniversary of Smokey and was met with blank stares by both my wife and my kids.
Excuse me while I go watch Cannonball Run and raise a Coors beer in honor of Burt Reynolds. I would encourage you to do the same.