$.01--Deshaun Watson is already making quite the name for himself as a rookie. The Houston Texans first-round pick took over at QB in the opener and has not looked back. In the process, Watson has proven himself to already be one of the NFL's finest young ambassadors.
Watson made the news this week by donating his first-ever NFL game check to three women who work in the Texans cafeteria. All three ladies lost everything in the flooding from Hurricane Harvey last month. Watson selflessly handed over his check, just under $28K in total, to help three near-strangers. There was no ulterior motive here, no self-aggrandizing by the former Clemson star. This is the kind of person he is, a humble young man appreciative of what he has and what he can do to make life better for everyone around him.
On the field, Watson showed the star power as well. He led the Texans to the biggest margin of victory and most points ever scored in a 57-14 destruction of division rival Tennessee. Watson was responsible for five touchdowns, four via the air and one on the ground. His passes were crisp and on target, completing over 70 percent of his efforts. Ten went to DeAndre Hopkins, including a TD. Watson destroyed the Titans defense with smart reads and excellent choices on the fly.
It was the greatest performance in Houston Texans history. The whole team played well, from the makeshift offensive line to the safety tandem of Andre Hal (2 INTs) and Marcus Gilchrist. Undrafted rookie LB Dylan Cole, a personal fave, notched a pick-six as well as his first career sack as he makes the suspended Brian Cushing increasingly expendable.
This was a must-win for the Texans, who entered 1-2 and already with a bad division home loss from Week 1. With this blowout win over the Titans, Houston caught Tennessee at 2-2. They also caught the team which gave them the home blemish, Jacksonville. With the way Deshaun Watson is emerging as both an on-field dynamo and off-field leader, it's easy to like the Texans to keep the good times rolling.
$.02—The New York Jets and the New England Patriots have the exact same record after four games. The defending champs and the team which didn't even hide its intention to write off 2017 to secure the No. 1 overall pick in the 2018 NFL Draft are both 2-2 after Sunday's action.
I'll let you digest that for a second. If you're a Patriots fan, go ahead and find another barf bag. You might need it…
The Jets improved to 2-2 with a second straight win, knocking off Jacksonville 23-20 in overtime. They ran all over what had been a very stout Jaguars defense with Bilal Powell racking up 163 and Elijah McGuire hitting 93. Both had long TD runs (75 and 69 yards, respectively) as the Jets heretofore moribund offense found ways to create big plays. The Jets defense, which has played pretty well in three of the four weeks, forced Jags QB Blake Bortles into an abysmal 15-for-35 performance a week after he was nearly perfect in blistering the Ravens in London.
The Patriots dropped to 2-2 after Tom Brady and the passing offense failed to outscore what Carolina did to the Patriots' wretchedly ineffective defense. The Panthers entered the game as one of the worst offenses, averaging just 15 points per game. They more than doubled that output in hanging a 33-30 shocker in Foxboro, an outcome which ruined many a survivor fantasy entry.
New England's defense is a panacea for a lot of struggling offenses. No team has allowed more points than the Patriots, now surrendering 32 points per game. They give up almost 450 yards per game, ceding 444 to the Panthers. That's 170 more than Carolina has averaged with Cam Netwon's balky shoulder and shaky OL play in front of him. The Patriots offense leads the league in yards to counter the bad D, but there's only so much Brady can do. On Sunday, it wasn't quite enough.
Now the Patriots find themselves knotted with the Jets and looking up at the 3-1 Buffalo Bills in the AFC East. Buffalo shocked previously unbeaten Atlanta to seize control of the division lead. You could have made a huge return on investment in betting on any of those things happening a month ago.
$.03— Thursday night football wasn't a particularly notable or surprising outcome. Green Bay thumped visiting Chicago 35-14 in a lopsided NFC North contest, which was excruciatingly delayed for almost an hour due to a thunderstorm in the first half.
There are two developments from this game which make it notable. First, this probably should be the end of the Mike Glennon experiment at quarterback in Chicago. The Giraffe just isn't earning his spots. Several miscues, notably a shotgun snap where he jumped to try and catch an errant hike into his knees, once again plagued Glennon. Chicago's offense lacks receiving talent but it also lacks both rhythm and confidence in itself, and those are direct negative reflections on Glennon. It's time to see what No. 2 overall pick Mitchell Trubisky can do.
The other notable issue is Bears LB Danny Trevathan and his hit which sent Packers WR Davante Adams to the hospital. Trevathan launched himself at Adams as the wideout was wrapped up by other Bears and going down to the Lambeau Field turf. With his head down, Trevathan flew into Adams helmet with dangerous ferocity. The receiver's mouthpiece went flying and his helmet appeared to crumple as his neck snapped back violently.
Trevathan, who does not have a history at all of being a dirty player, was suspended two games for his vicious act. It should have been double that amount. The defender lost any benefit of the doubt when he left his feet and led with the crown of his helmet. That it hit Adams square in the facemask and helmet doesn't appear intentional, but Trevathan has to know better. The league absolutely must stop plays like this. A big part of the NFL's campaign to help youth football is to teach players to see what they hit and not lead with the head. Trevathan violated that rule with potentially devastating consequences here, and he's lucky it's just two games he will sit out.
$.04—The move up the Pacific coast from San Diego to Los Angeles is not going well for the Chargers organization. The vagabond Bolts lost 26-24 to visiting Philadelphia as the Eagles ran out the clock with an impressive final drive to squash a late rally. It's another close loss, but another loss nonetheless.
Los Angeles is now 0-4. I'd say that their fans are devastated and distraught, but right now it's pretty hard to find any Chargers fans. Most San Diegans abandoned the team when it abandoned the city it called home for over 50 years. As someone who grew up in Cleveland and watched the Browns leave, and someone who lived in Houston and still felt the pain of the Oilers move some 15 years post-fact, I understand that sentiment. Those cities at least got the promise of a new team quickly. That cavalry isn't coming for San Diego, unfortunately.
There aren't many Los Angelinos willing to pay to watch the "other" new team in town. The Rams struggled to draw fans in their first year back despite some tangible history in the city. The Chargers don't have that, nor do they have many fans…
In NFL's smallest stadium, seats are covered...wow pic.twitter.com/RA3kwV35EH

— Les Bowen (@LesBowen) October 1, 2017
That's a soccer stadium which seats under 30,000. The Chargers can't even sell the cheap seats in the temporary new home, not even against a team with a decent national following like the Eagles. Management tried to explain it away, but NFL teams will do anything to make money and tarping off seats is not a way to increase revenue.
At least the local fans in Los Angeles do have something to cheer for with the Rams. Jared Goff & Co. stunned the Dallas Cowboys 35-30 to move to 3-1 and seize control of the NFL's worst division, the NFC West. The Rams have the highest-scoring offense in the league. That's a major change for the better under rookie head coach Sean McVay, who has coaxed much better play out of both Goff and his offensive line.
$.05—Along with the Chargers, the Cleveland Browns, New York Giants and San Francisco 49ers remain winless. That's four teams compared to the league's sole undefeated team, Kansas City…and the Chiefs play a good Washington team Monday night.
Which winless team is the worst?
The Chargers have been competitive but self-destructive, notably with a poor rookie kicker and no fan support. In Philip Rivers they have a very good QB, and the defense isn't terrible. The 49ers lost in overtime Sunday to Arizona despite scoring first in the extra period, and they darn near beat the Rams in Week 3 and the Seahawks the prior week, so it's tough to say they're destined for staying winless for a prolonged period. Although Brian Hoyer's awful accuracy and a defense which doesn't tackle well are legit causes for winless concern...
That leaves the Giants and the Browns. New York has been a major disappointment. My preseason pick to win the NFC East has struggled mightily with no semblance of a running game, the worst offensive tackle situation in football and a hobbled Odell Beckham. Their defense has been hit-and-miss, stout at times but carved up effectively by Jameis Winston and the Bucs on Sunday. At least the Giants held the lead in that game until the final play.
The Browns have not led once this year, not even for a second. Cleveland had a chance on Sunday but rookie kicker Zane Gonzalez yanked a field goal attempt wide left with the score still 0-0. The Bengals survived that early scare and went on to blow out the Browns 31-7, and that 7 came in the end of a full quarter of garbage time. Take the negative qualities of all the other three winless teams, throw them in a pot and stir a little and you've got something close to the Cleveland Browns.
Rookie QB DeShone Kizer should not be playing. He's simply not ready. His decision making, pre-snap reading and post-snap reactions are dangerously inadequate at this point. That's not a shock to anyone who watched him at Notre Dame, and why most everyone—including the Browns when they drafted him in the second round—considered the 21-year-old a long-term project.
Kizer has no help other than a pretty good offensive line. Isaiah Crowell and the run game have not fared well in the brief chances they've been given. The wide receivers might be the worst unit on any team at any position group in the league. Hue Jackson's playcalling and offensive scheming to help the rookie have been nonexistent. The high risk/reward defense of Gregg Williams has flashed talent but misses too many tackles and blows too many coverage assignments.
About the only upshot for the Browns is that being the worst team—again—will give them the No. 1 overall pick again. They also hold Houston's picks in the first two rounds. That's of little solace right now to the remaining Browns fans who haven't given up hope on this year already after watching the worst team in the league in what was supposed to be the "next year" they've been promised for decades now.
$.06— On Tuesday, Commissioner Roger Goodell met with over 20 representatives from various NFL teams to discuss the ongoing national anthem protests. The players kneeling in protest of police brutality and to call attention to social injustice has become an incredibly polarizing and bitter national debate. The backlash against the protests has become virulent and downright angry after some 200 players knelt last weekend.
They knelt largely in response to President Trump's inflammatory and profane exhortation to a sycophantic crowd, which cheered wildly at Trump's urging of NFL owners to fire players who dared refuse to stand and thus insulted the flag and the military. Fans in stadiums loudly booed players who kneeled and locked arms, and many have vocally sworn off the NFL.
That's bad for business, and Goodell called the meeting to formulate a plan of action. Among those in attendance were Jaguars owner Shad Khan, a Muslim-American who took the field in London with his team proudly with interlocked arms, and brothers Jason and Devin McCourty. Browns owners Jimmy and Dee Haslam, who released a public statement deeply critical of Trump, were also there.
In digging through the quotes from the players, one consistent theme emerged: the players realize they lost control of the message. Instead of raising awareness and gaining support for their righteous stance on social injustice to people of color in America, both Jason McCourty and Jonathan Casillas acknowledged the players protesting have lost the court of public opinion. Casillas noted (h/t Sports Illustrated)
"I know the owners, for sure, don't want us kneeling. Not because of what the message is. It's the message that's getting across. People are totally misconstruing the kneeling thing, from the beginning."
That's a savvy take by Casillas, and from my perspective a very astute one. Nobody is talking about what the players want the focus to be or why they are protesting, but rather the protest itself and how it's been popularly framed as anti-American and unpatriotic. I hate that this is the reality of the movement, but it's naïve to consider it a falsehood. They need to figure a way to shift the focus back to the intent of the protest, which is a noble one; wanting to be treated like an equal citizen is not something which should be a political issue or a controversial demand. At this point, I don't know how the protesting players recover that.
$.07—The Detroit Lions are less than a foot, or under 2 seconds, from being the NFC's only 4-0 team. They moved to 3-1 with an impressive defensive outing to secure a rare road victory over a team with a winning record, squashing the division rival Vikings 14-7.
This was a critical rebound for Jim Caldwell's Lions after last week's heartbreaking loss on an officiating technicality to the Falcons. It's even more impressive considering first-round pick Jarrad Davis, who has been great at linebacker, was a surprise inactive. Throw in that Matthew Stafford had perhaps his worst game of the Jim Bob Cooter offensive era, and it's a crazy testament to how well Caldwell and GM Bob Quinn have cobbled together a good overall team.
This game was all about the Detroit defense. The Lions entered the game leading the league in turnover margin at +6 and they built on that, adding three more takeaways while not losing the ball once. No takeaway was more critical than Glover Quin's strip of Adam Thielen as the Vikings were driving for the potential tying score with under 2 minutes left. That's a play the Lions of recent vintages could not make.
It's not a sexy way to win, but the fundamental concept of not beating yourself is something that has been a foreign concept to Detroit for decades. There are still too many penalties, but the offense doesn't turn the ball over and doesn't go 3-and-out often. The special teams have been outstanding despite being on the third punter because of injuries.
This one feels different for Detroit. Being able to win on a day where Minnesota's defensive line controlled the game and Stafford wasn't sharp is like going from playing "We Will Rock You" on the drums to mastering "Tom Sawyer" overnight.
It's a tough loss for Minnesota, and a costly one too. Standout rookie RB Dalvin Cook left the game with what appears to be a serious knee injury. Cook grabbed his left knee immediately after making a sharp plant on a run, dropping the ball with the noncontact injury as a result. They're already missing presumptive starting QB Teddy Bridgewater and replacement Sam Bradford, though Case Keenum was once again competent in fill-in duty. Losing a division game at home is a big blow come playoff tiebreaker time.
$.08—NFL Quickies
--Derek Carr left Oakland's loss to Denver with back spasms. He'll be fine, but the Raiders might not be. They've scored just 20 points and managed only 18 first downs in the last two weeks, both losses.
--The Jets might have beaten the Jaguars, but here's a reminder they're still not very good…
Jets just ran a fake punt on 4th & 21... and converted it... and then missed the FG.

— Dan Turner (@dtsturner) October 1, 2017
--Follow the link on this one, folks. Proof that not all veterans hate all NFL players. Very cool of Eagles LT Jason Peters here…
Jason Peters signed the leg of a Wounded Warrior in one of the coolest things you'll see today. WATCH: https://t.co/iwbkUzbe8F #Eagles

— FanRag Sports (@FanRagSports) October 1, 2017
--The hazards of being hirsute. The bidding here rocketed up over $1,000…
I'm dead 💀💀💀💀💀 I gotta buy my dread back 😂 pic.twitter.com/TeC23UcAC5

— Takkarist McKinley (@Takk) September 29, 2017
--For the record I can't stand Butterfingers, but they won this sweet battle…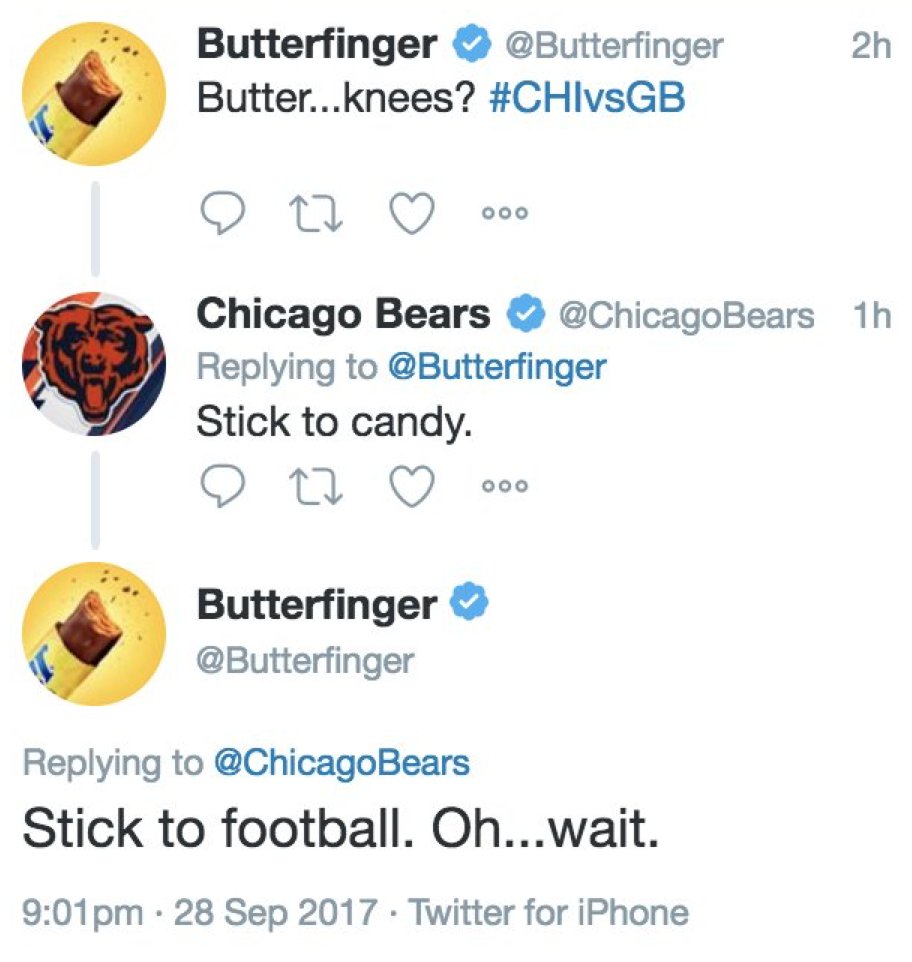 --Pretty sure they just had another review, followed by a play where both teams committed a penalty, in the sloppy Sunday night game in Seattle. What a dreadful football production.
$.09—College/Draft quickies
--Penn State RB Saquon Barkley is the front-runner for the Heisman Trophy and proved so from the opening kickoff against Indiana. Barkley housed it, showing both his vision and speed. The reason why he's almost certainly a top-10 pick in April is even better illustrated on this catch:
The ability to stop and go in a split second, the one-handed catch, the speed. Reminder: Saquon Barkley's a freaking running back. pic.twitter.com/8XrQnyPVc1

— Josh Poloha (@JorshP) September 30, 2017
He's a complete package player and will almost certainly wind up with a higher grade from me than any RB except Zeke Elliott in the last 10 years. His versatility and style make him seem like a pretty safe pick for a premium prospect, too. That's true even though he didn't have a great day running the ball. In fact, that's part of why he's such a premium prospect; even though he didn't run well, Barkley still made a major impact on the game.
--Homecoming did not go well for LSU. They lost to Troy 24-21 at night in Death Valley. The Trojans, one of the better Sun Belt programs, took a deserving parting shot as they went home with the stunning victory:
Hey @LSU, thanks for having us down for homecoming! We really enjoyed it! 😁

— Troy University (@TROYUnews) October 1, 2017
--RIP Joe Tiller. The former Purdue coach passed away Saturday at age 74. You'll be hard-pressed to find anyone who didn't like Tiller.
--I haven't even seen one highlight of the game yet, but congrats to my Ohio University Bobcats for an epic 58-50 win over UMass.
--Disappointing game from a scouting perspective from USC QB Sam Darnold in the Trojans' surprising loss at Washington State. Darnold, the presumptive No. 1 pick entering the season, has not played to that level thus far and really didn't look worthy in Pullman. His odd mechanics are going to turn off some NFL teams, and the arm strength is not as good as advertised. On the flip side, Wazzou's Luke Falk continues to intrigue but has enough real flaws of his own to be tough to love. His flat-footed pocket presence and utter lack of mobility are stains on what might be the best combination of downfield zip and feathery touch of any QB in this prospective class.
--From that USC/Washington State game, very impressive performance from WSU DE Hercules Mata'afa. A swift-footed defensive end, Mata'afa showed closing burst and spatial awareness which project nicely to a 3-4 rush OLB at the next level. He didn't get any sacks but consistently won his battles and was a menace against the run.
--Two big-time schools lost their starting QBs with broken collarbones on Saturday. Oregon's Justin Herbert and Florida's Luke Del Rio are both out for the season. Herbert is a very intriguing prospect, though just a sophomore. Quite a bummer for fans of both programs.
$.10—Hugh Hefner passed away this week at age 91. Believe it or not, Hefner and his iconic Playboy magazine are one of the reasons why I chose to become a writer.
That's right. While the pictures drew me in—the Suzanne Somers issue in 1980 was a personal early fave—I was an avid reader of Playboy even as a young lad. It was hard to find cutting-edge writing in accessible form for young folks growing up outside major cities, and Playboy was definitely a conduit for discovering new types of expression. I distinctly recall reading Haruki Murakami for the first time in Playboy, in an issue with the Swedish Bikini Team featured. He's now one of my favorite writers. I actually read the "lost chapter" of Catch-22 in Playboy before I read Heller's novel, in an issue with Brigitte Nielsen on the cover…and a pictorial.
There was a lot more than the guest writers. The profiles were deeply influential in how I approach writing deeper and different types of scouting reports than most draftniks. They were comfortable and provocative at the same time, easy enough to keep a teenage boy engaged in not simply staring at pictures of Pamela Anderson or Shannon Tweed. I learned many an intellectual joke or a funny story from the pages, too.
Then there was football. One of my most ambitious dreams was to be the guy who picked and then wrote about the Playboy All-American college football team. I religiously read it every year, and the preseason college preview, too. A football magazine with naked starlets? Where do I sign!?
This August, my family took a vacation to Lake Geneva, Wisconsin. We stayed at the resort that used to be the Playboy club there. It was odd having to explain to my 12-year-old son what Playboy was and what the bunny logo meant. The world has moved far beyond a monthly soft-core peep show, it seems. Hefner's death means almost nothing to anyone under about 25 years old, and that saddens me. Reading (yes, reading) Playboy was a formative rite of passage for young men for decades. RIP, Hef.