Last week: 8-8, a forecast I'll take on such a crazy weekend. 116-76 on the year.
Thursday Night
- Minnesota Vikings at Arizona Cardinals (-7.5): The Vikings looked terrible last week at home against the Seahawks. Now they face a completely different style of team on both sides of the ball on a short week. Oh yeah, both starting safeties will be out. This doesn't figure to be much of a game.
So in order to make it watchable, my friend Arif Hasan, who covers the Vikings for several websites, created a series of bingo cards. If you wish to make it a drinking game instead of bingo, more power to you. Here's one of the brilliant cards: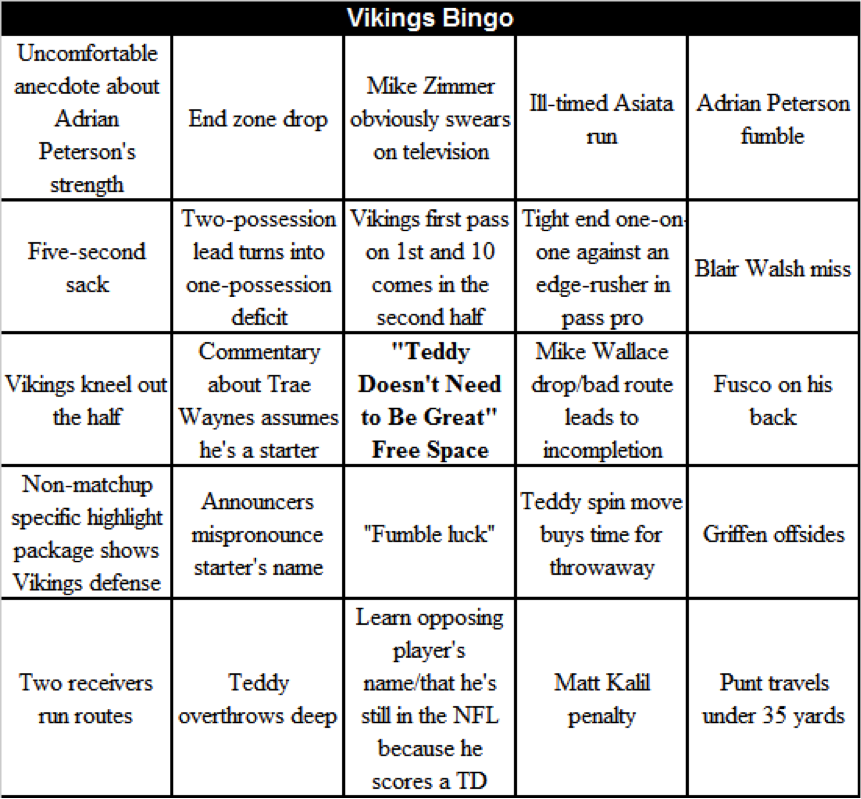 It's funny, or painful if you're a Vikings fan, because you could fill the entire card by the middle of the third quarter.
Cardinals 35, Vikings 17
Sunday Best
- Pittsburgh Steelers at Cincinnati Bengals (-3.5): This AFC North tilt features two of the most entertaining teams to watch and should be must-view football. The Steelers offense is powered with rocket fuel, and Ben Roethlisberger has no problem keeping his foot on the gas. With Antonio Brown, Martavis Bryant and even DeAngelo Williams out of the backfield at his disposal, Ben Roethlisberger and the Pittsburgh offense has the ability to run laps around any opposing defense.
The Bengals have some juice of their own. Andy Dalton is in the running for Most Improved Player, and it helps having Comeback Player of the Year candidate Tyler Eifert, All-Pro A.J. Green and a strong offensive line. The weak spot in this entire game matchup is Pittsburgh's pass defense, and I think Dalton and friends will find a lot of success down the field.
As always, it's dangerous to put faith in the Bengals against a regular opponent. They tend to feast on the unfamiliar but sputter when seeing a team they've faced recently. They won in Pittsburgh a few weeks ago, interestingly a low-scoring 16-10 battle.
Going back to that game, there is a definite pattern with Pittsburgh's defense. They have allowed 10, 35, 9, 39, and 10 in the last five weeks. If that wild ride continues, the Bengals are about to explode. I'm not going to fight the math…
Bengals 37, Steelers 33
- New England Patriots at Houston Texans (+3.5): This game marks Texans coach Bill O'Brien meeting the team that launched his career. He was the QB coach in New England, in charge of both starters in this game, Tom Brady and Brian Hoyer. They had a rather tempestuous experience together…
Brian Hoyer & Tom Brady nicknamed Bill O'Brien "teapot" in New England because he would always boil over. Had an actual teapot in QB room.

— Doug Kyed (@DougKyed) December 10, 2015
The dilapidated Patriots team that lost to Philadelphia last week will lose this game in Houston. I have no doubt about that. Houston's two best players, J.J. Watt and Nuk Hopkins, directly face off against New England's weak points. Tom Brady will still not have Edelman or Gronk. The defense won't have Hightower. It doesn't look promising for the Patriots.
Still, the visitors are favored for a reason. The Texans are tough to trust. They can beat the Bengals and Jets but get run off the road by the Dolphins and Bills. I always favor the master over the apprentice, and there is no better master than Bill Belichick. It's hard to see the Patriots losing three in a row, even though the Texans at home in prime time are pretty strong.
Patriots 23, Texans 20
Edit, I changed my mind. Sue me.
Texans 20, Patriots 17
Sunday Rest
- Atlanta Falcons at Carolina Panthers (-7.5): I'm picking the Falcons here based on the premise that it's the least-likely outcome of any game this weekend. Last week the Eagles beating the Patriots in New England was the most unlikely upset, and it happened. The week before nobody ever thought the Bears would go into Lambeau Field on the night the Packers were retiring Favre's jersey and pull the upset, but they did just that. Defecation happens.
Falcons 31, Panthers 27
- Buffalo Bills at Philadelphia Eagles (-1.5): What to make of the Eagles, who lost to Detroit and Tampa Bay by a combined 90-31 score before knocking off 10-1 New England in Foxboro? I'm going to trust my eyes and believe the team which got thumped twice is the real Eagles. The Patriots had too many injuries in too many key spots, areas where the Bills are solid. I don't see any way Philly can cover Sammy Watkins.
Bills 39, Eagles 20
- Washington at Chicago Bears (-3.5): The Bears can't win at home, going 1-5 so far. The Skins can't win on the road, earning the 0-5 bagel away from the DMV. These two teams have eerily similar points for/against, too; Chicago has scored 251 and allowed 290, Washington is at 257 and 286, respectively. I like how the Washington secondary matches up with Chicago's receivers. Seriously.
Ethnic Slurs 25, Bears 23
- San Francisco 49ers at Cleveland Browns (-1.5): Johnny Football regains the starting gig for the moribund Browns, who are somehow favored despite having the league's worst record. That should tell you just how awful this matchup is, pitting what appears to be the two weakest teams in the league.
Manziel was playing better football before he opted to party and subsequently lie about it, leading to a disciplinary benching. I'm fascinated to see how the team responds to him, and if Mike Pettine lets him ride through a stretch of four straight 3-and-outs or if he yanks him for Austin Davis.
49ers 20, Browns 17
- Detroit Lions at St. Louis Rams (even): A heavily depleted Rams team hosts a Lions team coming off one of the most devastating last-second defeats in NFL history. I'll side with the team that has pretty solid relative health over the team that will be missing as many as five defensive starters. This game does have fairly significant draft implications--both are 4-8--and it's customary for Detroit to always do whatever it can to screw up improving draft position. The Lions strong run D in recent times (NFL's 2nd best YPC against since Week 7) effectively thwarts the only thing the Rams do on offense, overfeeding Todd Gurley.
Lions 27, Rams 17
- Tennessee Titans at New York Jets (-7.5): The Titans offense (read: Marcus Mariota) gives Tennessee more of a chance than the bookies seem to allow here. I don't think they will keep pace with Eric Decker, Chris Ivory and the Jets, but the inconsistency of New York definitely gives Tennessee an opportunity to pull off the upset.
Jets 28, Titans 24
- Indianapolis Colts at Jacksonville Jaguars (-1.5): A few weeks back I boldly opined this game would decide the AFC South. Between the Andrew Luck injury, Jacksonville stumbling against Tennessee and the Texans unexpectedly rising with Brian Hoyer at the helm, my crystal ball proved cloudy.
The way in which Pittsburgh absolutely destroyed Indy last Sunday night makes me lean heavily towards the home Jaguars. The Colts pass rush didn't do enough to impact the passing game, and the back end really struggled against the 3- and 4-WR sets with layered route tiers. Jacksonville doesn't use the spread with that sort of frequency, but Blake Bortles to Allen Robinson is clicking as well as any combination outside of Pittsburgh's dynamic duo of Roethlisberger-to-Brown. Good week to own either of those passing handcuffs in fantasy football.
Jaguars 30, Colts 27
- San Diego Chargers at Kansas City Chiefs (-9.5): I came away very impressed with how well the Chiefs closed out the game against the pesky Raiders. When they needed big plays from both the offense and defense, they delivered. The Chiefs eked out a win on a day where they couldn't run the ball effectively and faced 48 pass attempts from a pretty strong aerial attack. That bodes well against a San Diego team that just doesn't have the overall talent to compete without some help from the opponent.
Chiefs 33, Chargers 19
- New Orleans Saints at Tampa Bay Buccaneers (-3.5): Can the Buccaneers really nudge above .500? I think so, and it's because the Saints defense is awful.
The crowd shouts out, How awful are they ? Here's some illumination from Greg Auman at TampaBay.com…
the Saints rank last in three of the four major statistical categories -- last in scoring defense (31.7 points/game), last in total defense (425.2 yards/game) and last in rushing defense (137.8 yards/game). They're better in pass defense (287.3 yards/game), where they rank 31st out of 32 teams.
The Saints, who have battled numerous injuries and are using eight rookies, have what is statistically a historically bad defense -- challenging the NFL's all-time marks, some of which they know well. Points are always the truest measure of a defense, and New Orleans has allowed at least 20 points in every game this season. They've allowed opponents to score 10 or more points in nine of their last 12 quarters.
Jameis Winston shall eat. Hopefully he pays for the crab legs this time…(too soon?)
Buccaneers 38, Saints 28
- Seattle Seahawks at Baltimore Ravens (+8.5): Pray for Matt Schaub. The Seahawks offense is showing balance and explosiveness lately, and the Baltimore defense is dreadful. The Ravens figure to fall behind early, and that means Schaub, who has the agility of a 1977 Crown Victoria, will have to face an aggressive and talented Seahawks pass rush with its ears pinned back. This one could be real ugly.
Seahawks 32, Ravens 9
- Oakland Raiders at Denver Broncos (-7.5): Derek Carr's abysmal fourth quarter last week--he threw three INTs--gives me real pause in having any confidence in the Raiders. After all, Denver's defense is one of the best in the league.
However, this game marks Brock Osweiler's fifth start for the Broncos in relief of the injured Peyton Manning. Former NFL GM and current Sirius NFL Radio host Pat Kirwan likes to espouse the theory that once opponents get four weeks of tape on a particular opponent, they get a much better feel for how to play against him. The Raiders do have defensive playmakers, and Broncos RB C.J. Anderson is iffy with an aggravation of a recurring ankle injury. Don't be overconfident in the home team here.
Broncos 24, Raiders 20
- Dallas Cowboys at Green Bay Packers (-7.5): We will see which team can carry the momentum from last week's epic comeback wins. I'll side with Aaron Rodgers over Matt Cassel and happily give the points.
Packers 26, Cowboys 10
Monday Night
- New York Giants at Miami Dolphins (+0.5): Another Monday Night Football game where I can confidently go to bed at halftime knowing that the two teams involved will both do their best to lose the game. Here's how I think it plays out:
Giants jump out to an early 10-0 lead with Odell Beckham catching a long TD while the Miami offense goes 3-and-out on three of its first four drives.
Dolphins even it up just before halftime as Ryan Tannehill gets hot and the New York defense forgets how to rush the passer. Miami even gives Lamar Miller the ball a few times and he grinds out 46 of their 57 yards on a scoring drive to even the game at 13-13.
The teams trade TDs on the first drives of the third quarter. Al Michaels casually alludes to the over/under of 46.5 being in real peril.
A special teams gaffe costs the Dolphins and results in New York taking a 26-20 lead, but Josh Brown misses the extra point. This will be important.
Tannehill finds Jarvis Landry traipsing uncovered in the back of the end zone to get the tying touchdown with just over 3 minutes to go. Miami makes the extra point to go up 27-26.
Having already burned two timeouts to avoid delay of game penalties and a third on a failed challenge, the Giants go into hurry up mode. They drive deep into the red zone with 40 seconds to go. On third down, Tom Coughlin opts to take one more play to get closer, having lost confidence in his kicker from the missed extra point. On this play, Eli Manning throws an incomprehensible interception and the Giants go down.
Dolphins 27, Giants 26